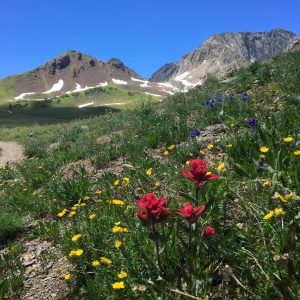 With Estes Park as a home base you have access to Rocky Mountain National Park just 5 minutes away, but also we have mountains all around us because Colorado is just so darn awesome! Just 4o minutes to the South is access the Indian Peaks Wilderness and to the North is Cache la Poudre River Canyon and further West is Colorado State Forest State Park that borders RMNP on the North. I have a feeling you could spend a lifetime exploring this area and still never see it all.
American Lakes-Michigan Lakes
A friend of mine suggested we hike to Michigan Lakes. I had never hiked in State Forest State Park so I was happy to have company for the ride. From Fort Collins travel West on HWY 14 through the Poudre Canyon. The trail head is on your left after Cameron Pass. From the trail head it is 5.5 miles one way to the lake. This is a moderately steep hike with 1680′ of elevation gain. The trail takes you through forests and alpine meadows. I was on the hunt for Glacier Lilies and knew the wildflowers were amazing in this area. The flowers are spectacular, Chiming Bells, Rosy Paintbrush, Larkspur, Columbine, Mountain Buttercups, Purple Fringe, and of course Glacier Lilies. The moose are common in this area too. From the lakes it is a short jaunt to Thunder Pass into Rocky Mountain National Park.
There are many resources if you are looking to hike in Colorado State Forest State Park, this site has a great list.
| | | | |
| --- | --- | --- | --- |
| Alpine Sunflowers | Bull Moose | Glacier Lilies | Savannah in the flowers |
| Doggie Frolicking | Rosy Paintbrush | | Glacier Lily |
There were few other hikers at the lake, we had the place to ourselves and took a break for lunch. The dogs ran around splashing in the lake and chasing each other. Click on the photo sphere below and experience the lakes for yourself.