The Home Energy Score,
This last Fall at the state REALTOR® convention the Colorado Energy Office introduced the Home Energy Score program to real estate professionals. This program which analyzes your home's energy efficiency was developed by the U.S. Department of Energy. It will provide REALTORS®, current homeowners and home buyers with a simple snapshot of a home's energy rating and energy efficiency features.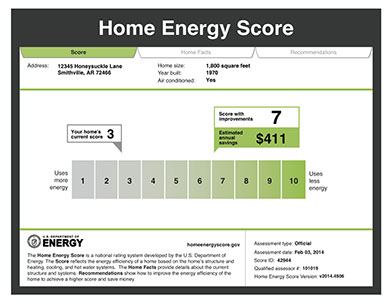 This 1-to-10 rating scale will help home buyers understand how much energy a home is expected to use and offers recommendations for cost-saving energy efficiency improvements.

Examples of recommendations might be:

• Adjusting the temperature setting on your hot water heater
• Installing Energy Star rated appliances
• Adding extra insulation to your attic
• Caulking or sealing windows
• Keep water heater temperature on the "warm" setting of 120º F to save energy.
• Replace 60-100W incandescent lights with compact fluorescents or LEDS.
As a home owner you can understand what steps to take to make your home more energy efficient. As a home buyer you can see how homes you are looking at compare to each other. The program is available through the Colorado Energy Office's Better Buildings Colorado program. Visit their website for more information.
www.betterbuildingsco.com
The best part of this program is in addition to educating consumers on the energy rating of their home, the program offers an energy coach that can help you move forward with finding qualified contractors, loan options for financing improvements, scheduling bids for improvements, obtaining discounts and rebates for upgrading features and more. There are also Energy Efficient Mortgage programs for homes with energy efficient features. This program can be beneficial if you plan to stay in your home, or are in the process of buying/selling a home. Green features may make your home more desirable to buyers. Call me today for help in getting your Home Energy Score.