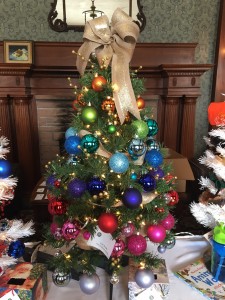 If you are looking to get into the holiday spirit while visiting Estes Park you must visit the Quota Club Holiday Parade of Trees at the Stanley Hotel. The kick-off event is Bubbly and Bulbs, a free reception at the Stanley Hotel on Wednesday, November 11th from 5-7pm. Featuring free champagne, a cheese display and cookies. The Stanley Hotel generously sponsors this elegant event for Quota Club. We will have tickets for sale to win a chance at 40 decorated trees. Tickets are $1/each or 13 for $10. Ask for tickets at the front desk. This is a record number of trees this year. The trees are displayed at the hotel from now until December 3rd when they are moved to Good Samaritan where they remain until the home tour on the 5th. Tickets are drawn on Saturday December 5th at 4pm. The Quota Club Holiday Parade of Trees at the Stanley Hotel will delight people of all ages.
Quota Club
This event is a fundraiser for Quota Club of Estes Park which raises funds to help the Hospital Foundation purchase ambulances and also provide support for hearing and speech in the local schools. Like their Facebook page to keep up-to-date on their local events. Quota Club Facebook
| | | |
| --- | --- | --- |
| Over the Rainbow | Elegant Christmas | |
| Tractor Tree | Blown Glass Ornaments | |
More about the Stanley Hotel
The Stanley Hotel is a historic hotel in Estes Park, Colorado. Located within sight of the Rocky Mountain National Park, the Stanley offers panoramic views of the Rockies. It was built by F.O. Stanley of Stanley Steamer fame and opened on July 4, 1909, catering to the American upper class at the turn of the century. The hotel and its grounds are listed on the National Register of Historic Places. The Stanley Hotel also hosted the horror novelist Stephen King, serving as inspiration for the Overlook Hotel in his 1977 bestseller The Shining.