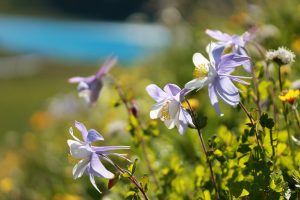 I love my Rocky Mountains, but one of my favorite places to hike is the San Juan Mountains near Silverton, CO in Southwest Colorado. We visit once a year in mid-July. Spanning the continental divide, the San Juan mountains have numerous jagged volcanic summits, 13 of which rise to over 14,000 feet.
Ice Lake Basin
The four mile hike to Island Lake starts in the Mineral Campground off of HWY 550. We parked on a 4×4 road up from the trail head, we then had to cross a waterfall. It took some careful footing. The start of the trail is heavily forested and insect repellent was a must. You criss cross through the forested trail on some fairly steep switch backs. The elevation gain is approximately 3,000′ over 4 miles to the lake. When you emerge from the trees during the summer months it is a breathtaking alpine wildflower wonderment until you reach the lake. Fields upon fields of alpine wildflowers, such as Larkspur, Columbine, Rosy Paintbrush, and Parry Primrose. We encountered several stream crossings which were good to water our dogs, but bad for hiking shoes. Be prepared for any kind of weather at this altitude and exposure in Ice Lake Basin. There are several lakes to explore here, we ventured over to Ice Lake and looped around to pick up the trail back to the car. On the trail down from Ice Lake the trail skirts the edge of some amazing waterfalls.
Want to experience Island Lake for yourself? Enjoy this photo sphere from the hill above the lake.